FLAKE PUT BRAKES ON KAV VOTE
The Senate Judiciary Committee chairman is working to keep the Supreme Court nominee's confirmation on track after Christine Blasey Ford accused Kavanaugh of sexual assault.
Senate Judiciary Committee Chairman Chuck Grassley (R-Iowa) said Sunday he was working on setting up bipartisan calls to keep Supreme Court nominee Brett Kavanaugh's confirmation on track.
Grassley's office said it was working to hold calls alongside Sen. Dianne Feinstein (D-Calif.), the top Democrat on the committee, to speak with Kavanaugh and Christine Blasey Ford, the woman alleging the judge sexually assaulted her more than 30 years ago.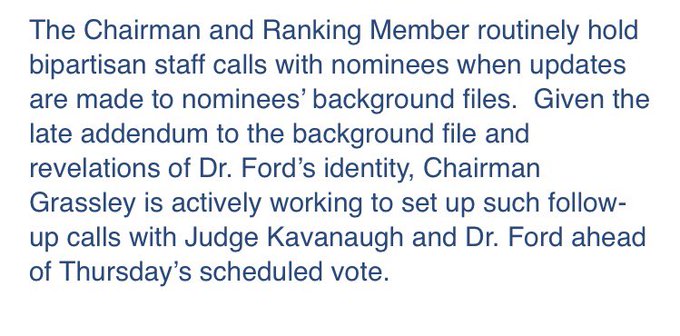 Seung Min Kim ✔@seungminkim

NEWS — Grassley and Feinstein jointly working on scheduling follow up calls with both Kavanaugh and Ford, per spox

6:22 PM - Sep 16, 2018

"The Chairman and Ranking Member routinely hold bipartisan staff calls with nominees when updates are made to nominees' background files," Grassley's office said in a statement. "Given the late addendum to the background file and revelations of Dr. Ford's identity, Chairman Grassley is actively working to set up such follow-up calls with Judge Kavanaugh and Dr. Ford ahead of Thursday's scheduled vote."

Ford revealed her identity on Sunday in The Washington Post after information leaked that Feinstein was in possession of a letter accusing Kavanaugh of sexually assaulting a woman in his high school years. Ford alleges that Kavanaugh was "stumbling drunk" at a party in the 1980s where he p

Read more: http://electionnewschannel.com/top-news/80803-flake-put-brakes-on-kav-vote