Poll Americans say Trump should wait to nominate Ginsburg replacement
Americans say by a 13-point margin that President Donald Trump should allow the winner of the presidential election to nominate a replacement for the late Supreme Court Justice Ruth Bader Ginsburg, a new HuffPost/YouGov poll finds.
Roughly half, 49%, say Trump should wait so that whoever wins the election can nominate Ginsburg's replacement. Another 36% say he should immediately nominate a replacement. They say, 44% to 37%, that presidents in the final year of their term should generally wait until after the election to handle any Supreme Court vacancies.
Views are deeply divided along partisan lines. Democrats say by a 70-point margin that Trump should allow the election's winner to nominate a replacement, while Republicans say by a 54-point margin that Trump should announce his nominee immediately.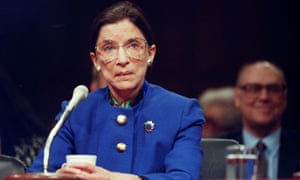 Americans are split in their confidence that Trump has the ability to choose good nominees for the Supreme Court: 44% say they're at least somewhat confident, 44% that they're not very or not at all confident, and the rest that they're not sure.

Polling on a rapidly developing political event faces the inherent challenge of trying to capture a moving target ― opinions are liable either to shift or to further solidify as both parties stake out positions and make their arguments to the public. Trump said he would announce a nominee on Saturday, and Senate Majority Leader Mitch McConnell (Ky.) quickly followed the announcement of Ginsburg's death with the promise that Trump's nominee would "receive a vote on the floor" of the Republican-majority Senate.

Democratic lawmakers and Democratic presidential nominee Joe Biden have strenuously objected, pointing to the GOP's decision to block a vote on Obama-era Supreme Court nominee Merrick Garland months ahead of the 2016 election.

After reading that Republicans prevented Garland from receiving a hearing, Americans were relatively divided on what the Senate should do today. Forty percent said that, if Trump announces a nominee before the el

Read more: http://electionnewschannel.com/top-news/152633-poll-americans-say-trump-should-wait-to-nominate-ginsburg-replacement